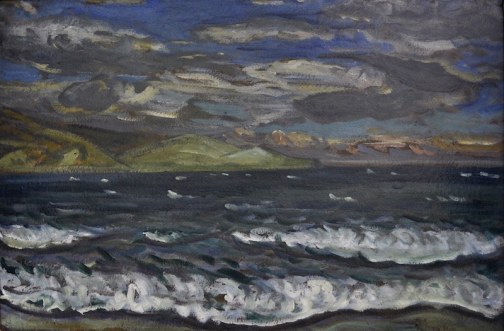 untitled (seascape at Banyuls-sur-Mer, known as Stormy Sea)
1899, oil on canvas, 50 x 75 cm., LR: "Rónai"
József Rippl-Rónai spent three months visiting his close friend and fellow artist Aristide Maillol at Banyuls-sur-Mer in 1899. It was during this time that he painted this untitled seascape. Within the background of Rippl-Rónai's seascape, one can discern a steep cliff line, while in the fore and middle grounds, a hilly bay embraces the waves of the Mediterranean Sea. The artist has captured the effects of sunshine and storm through the animated skies and turbulent water. Banyuls-sur-Mer is a coastal region situated in the Roussillon area of France, where the eastern extremity of the French Pyrénées (known as the Monts Albères) meets the Mediterranean coastal lowlands. This fertile region supports vineyards and encompasses an amalgam of French and Catalan culture.
This work represents an era of heightened visibility in France for Rippl-Rónai, who had become associated with the Nabis group of French painters in 1894, after including his painting My Grandmother in the Exhibition of the Société Nationale des Beaux-Arts in the Champs de Mars. During the same year, he held his first exhibition in Paris at the Palais Galerie, which was the pavilion of the Embassy of the Austro-Hungarian Monarchy. The artist was trained in Munich in 1884 before taking a position as a studio assistant with Mihaly Munkácsy, by then established in Paris. He remained in Munkácsy's studio from 1887 to 1890. This was followed by a brief enrollment in the Académie Julian where Rippl-Rónai met several Symbolist artists. Around 1890, he befriended Maillol as well as the Scottish artist James Pitcairn-Knowles and he encountered Gauguin, Puvis de Chavannes, Toulouse-Lautrec and Cézanne. Rippl-Rónai met Maillol during the latter's period as a painter and tapestry designer – prior to Maillol's turn to sculpture in 1900 – and the two artists became closely associated. It was as a result of encouragement from Maillol that Rippl-Rónai began to design tapestries. Conversely, Maillol likely became acquainted with the Nabis through his association with Rippl-Rónai. Art historian Anna Szinyei Merse has made a comparison between the elegant simplicity of outline within Rippl-Rónai's graphic work and Maillol's drawings, which were created concurrently in the 1890s.
During the 1890s, Rippl-Rónai was known for a style of painting that evoked a lightness and ethereal sense of space, and a decorative quality reminiscent of Japanese woodcuts that resembled the work of the Nabis. The artist became known for his elegant and delicately executed portraits of women, often holding flowers. Through his work in paint, pastel and tapestry design, Rippl-Rónai also depicted unadorned and often downcast characters such as the factory-girl, coal-man, milliner and student. Art historian Eszter Földi asserts that Rippl-Rónai was not an artist "engagé"; for him these subjects were interesting because of the formal artistic aspects that they presented. Near the end of the decade, the artist painted nocturnes that captured what he termed the "blue air" of twilight. The artist continued his concern with the effects of light within the seascape in discussion here. Rippl-Rónai was intrigued by the overcast conditions and accompanying moody and changeable ambience that he encountered at Maillol's coastal residence. Art historian Keserü Katalin asserts that it was the Banyuls-sur-Mer setting that moved Rippl-Rónai to develop a new, rich color palette, as he considered and experimented with a range of sunny local colors. Within this work, one can observe the use of a variety of blues and yellows, including cerulean and ocher, to evoke a visceral experience in the viewer as they observe the active atmosphere and waters. We witness a departure from Rippl-Rónai's preceding period that employed a darker palette. Indeed, in his memoir, Rippl-Rónai states that: "It was the intensive blue colour of the sea that jolted me out of my previous intentions… [at Banyuls] … I soon saw everything as being colorful, but not yet as 'sunny.'" It was also during this stay that Rippl-Rónai painted the notable portrait of Maillol now in the Musée D'Orsay. In 1900, soon after his visit with Maillol, Rippl-Rónai returned to Hungary, where he enjoyed both artistic success and prominence in Hungary's cultural and public life. (BJS)
Provenance:
Budapest, BÁV auction 67, Sept. 1985, lot 140.