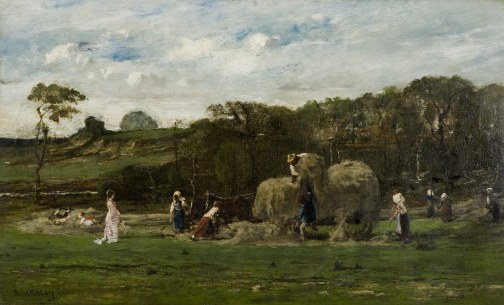 Szénarakás [Loading Hay] (also known as Szénaszekér [Haywagon])
n.d. [ca. 1886-87], Cat. Rais. #448, oil on canvas, 59.5 x 97 cm., LL: "Munkacsy Paris"
In the 1880s, Munkácsy became the first international Hungarian art star. But like a number of art stars, his rise was as precipitous as was his subsequent eclipse from the international scene. His works commanded enormous sums in his prime: John Wanamaker, founder of the famous Philadelphia department store, paid over two hundred thousand dollars for Munkácsy's monumental Christ Before Pilate and Golgotha in 1887-88. Like a number of Hungarian artists of his generation, Munkácsy began his artistic studies in Vienna, and continued them at the Düsseldorf Academy, where a number of American artists also studied. While Munkácsy's early works were political in the manner of Gustave Courbet's Realism, ennobling the downtrodden, by the latter part of the 1870s, he had entered into a contract with the enterprising art dealer Karl Sedelmeyer, who encouraged him to produce paintings that would appeal to the Parisian bourgeoisie. While many of these are merely pretty, Loading Hay is exceptional for the quality of its brushwork and for its representation of a curious confrontation: A fashionably dressed young woman contemplates a group of sunburnt peasants. Though reminiscent in theme and composition to (and perhaps inspired by) Courbet's Young Ladies From the Village (1852), the contrast between the classes is even starker in Munkácsy's work, and there is no hint of caricature in the depiction of the young lady, raising interesting questions about Munkácsy's political intentions at the time. The canvas's theme is certainly unique in the artist's oeuvre. This work has been featured in a number of important exhibitions, including Munkácsy's retrospective at the Hungarian National Gallery in 2005, where it appeared on the cover of its exhibition catalogue. (OB)
Provenance:
London, Sotheby's auction, June 23, 1981, lot 45.